My Team
As a financial advisor for the Northwestern Mutual, I am committed to helping my clients whether they are concerned for their own financial needs or those of their family or business. I don't do it alone. With the support of a dedicated staff, we stand committed to providing you the best client service possible. If you have a problem or need assistance at any time, please let us know.
Sherri S Via
Administrative Assistant
Office 414-271-3242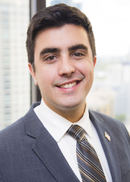 Chris Thomas Varona
Associate Financial Representative
Office 954-735-9000

Christopher was introduced to the Financial Industry in 2015. He began working in the Tallahassee office of Northwestern Mutual as an intern through the summer of 2015. After graduating from Florida State University with a degree in Finance and Marketing, Christopher moved down to South Florida and began work as a Financial Representative in the Fort Lauderdale office. After a year he joined Ron Via's team as an Associate Financial Representative. As such, Christopher helps deliver financial security to clients by developing personalized financial plans based on client's specific goal. Christopher holds a 2-15 License.
Christopher grew up in South Florida and graduated from arguably the greatest public university in the nation, Florida State University. His time away from the office is spent with family and friends. Chris participates in an adult softball league and enjoys maintaining a healthy lifestyle by staying active.